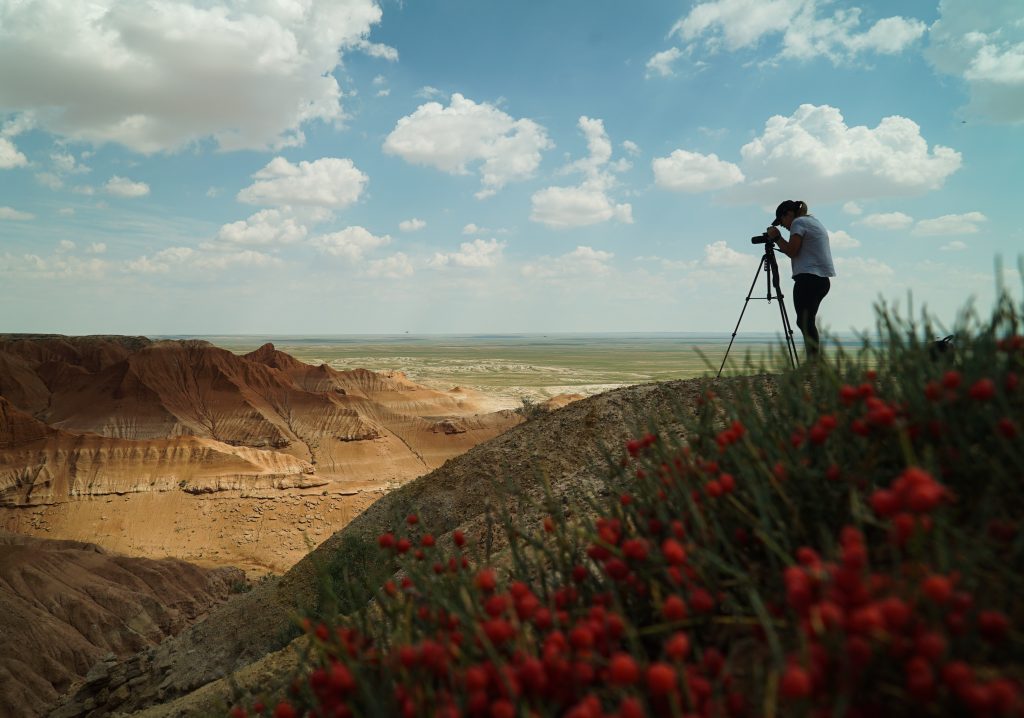 Wild Spirits and Warm Hearts
Wild Hearts & Warm Spirits is a School of Humanities and Communication Arts' outbound global mobility study program. The photojournalism study tour aligns with key study and research areas positively promoting cross-cultural communication, industry, and community. The curated collection of student photography represents a transformative journey – one where a select group of Western students, some of whom had never travelled outside of Australia, undertook their first 'photographic assignment' abroad.
Over 14 days, students were immersed in the Inner-Mongolian culture and rugged landscapes, travelling outside of the main cities and meeting locals in small rural communities. Students were mentored by project leads, Dr Rachel Bentley, Adjunct fellow Dr David Cubby and Sam Dessen to develop their photographic technique and embrace the 'assignment' with professionalism, creativity and open-mindedness, characteristic of Western students.
The Western students' work takes inspiration from their studies at Western Sydney which include Design (Visual Communication), Screen Media (Arts and Production) and Communications (Journalism). This cross-cultural collaboration resulted in many students choosing to document uniquely Inner-Mongolian topics, such as hybrid Mandarin-Mongolian typography, close family relationships, and the iconic horsemen of the sparse grassland plains.
The ensuing Wild Hearts & Warm Spirits video, digital site and exhibition deliver a unique, collaborative body of work encompassing learning and teaching influences from both Western Sydney and Inner Mongolia. Western Students also enjoyed a creative workshop as guests of Inner-Mongolia Normal University Art and Design College, and also received mentorship and guidance from renowned Chinese Photographer, David Wei Lai.
The Wild Spirits & Warm Hearts exhibition has potential to further promote positive Australia-China creative and cultural collaboration.  The travel abroad tour is an example of a successful New Colombo Project promoting industry and educational relationships. In addition to the students' work and artist statements, a short video was filmed throughout the students' journey documenting in interviews the intensity and many benefits of cross-cultural immersion. The students recounted adventurous activities and close friendships made in Inner-Mongolia. Their interviews present an authentic and challenging experience, one that has accelerated the students' professional development and peer-to-peer comradery as key takeaways from the study tour. 
The student exhibition and video is displayed in close proximity to WSU Design and Communications students teaching hub at the Parramatta South ACIAC gallery. The student work will inspire others to seek out future New Colombo Plan and study abroad mobility programs. The stunning portrayal of the unique Inner-Mongolian people and wild landscapes serve to promote study and connections within that region, particularly when considering the ongoing partnership between Western Sydney University and Inner-Mongolia Normal University based within the major Inner Mongolia city, Hohhot.
Wild Spirits & Warm Hearts aligns well with the aims and objectives of the ACIAC gallery space as a tangible example of an international creative and cultural partnership. This exhibition Wild Spirits &Warm Hearts, Inner Mongolia Photographic Tour strengthens and further promotes internships, creative collaborations and promotes cross cultural and economic relations within the region.
Rachel Bentley, Sam Dessen and David Cubby October 2020